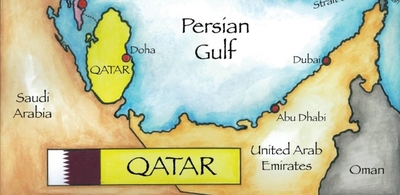 Those hoping for a quick resolution to the Qatar crisis may have to brace themselves for a lengthier slog ahead. After a host of Middle East states singled out the gas-rich emirate in early June over its problematic behavior, the feud appears to have reached a stalemate with the sides settling in for the long haul and Secretary of State Rex Tillerson returning from the Gulf region empty-handed.
While the disagreements stretch back over decades, the current impasse culminated in broken diplomatic relations and severed air, sea, and land links. It represents a far more serious retaliation than that of a few years ago when its neighbors last deemed Qatar to be abrasively paddling in the wrong direction. That dust-up resulted in the Riyadh Agreement in 2013 and additional arrangements a year later. The stern response today is a consequence of Qatar not only breaking those commitments but of stepping well beyond them.
This time around Saudi Arabia, the United Arab Emirates, Bahrain, and Egypt issued 13 demands that Qatar promptly rejected. Their foreign minister, Sheikh Mohammed bin Abdul Rahman bin Jassim al-Thani, called the demands and their actions, "clear aggression and an insult." Predictably, the responding statement the four Arab countries released on July 7 was full of fire and brimstone.
The main points of contention involve Doha's support for the Muslim Brotherhood, coziness with Iran, financial support to Sunni jihadis in the Syrian civil war, and using its state-funded Al Jazeera network as a regime mouthpiece and propaganda tool aimed at undermining its neighbors.
The External Effect
Having applauded the rise and mourned the subsequent fall of the Muslim Brotherhood in Egypt, Qatar remains steadfast in its long-running and avid support of the Islamic group, despite the threat it poses to most regimes around the region.
After the Egyptian coup that ousted them from power, many of the Brotherhood's leaders found refuge in five-star hotels in Doha while, during the Egyptian demonstrations, Al Jazeera reportedly paid them for footage of their protests. The Brotherhood's spiritual leader, Yusuf al-Qaradawi, has long been a respected guest of Qatar's al-Thani ruling family, living in the country since 1961. His statements praising suicide bombers who kill Americans and Israelis are also broadcast on Al Jazeera. If that were the sum of all problems, it would be a surmountable challenge
Unfortunately, to grasp Doha's duplicitous nature, one only needs to turn back the calendar a few months. In Qatar, April brought a visit from Defense Secretary James Mattis and May brought President Trump to Saudi Arabia for the much-anticipated Gulf summit, which included a one-on-one meeting with the Qatari emir. During that period, Qatar's support for a colorfully noxious arrangement of terrorists was in full bloom.
A week after Mattis visited in April, Hamas scheduled a conference to unveil the ostensibly softer side of their grotesque charter. As the Palestinian branch of the Muslim Brotherhood, the United States, Canada, and the European Union officially list Hamas as a terrorist group but its leaders live lifestyles of the rich and infamous in Qatar. Doha has served as the external headquarters for the terrorist group's leaders since they left war-torn Syria in 2012. The al-Thani family has provided more cash to the terrorist group than any other country has over the last five years, and Hamas uses the emirate as its private ATM machine. They use the money to build their terrorist infrastructure in Gaza to wage a predictable future round of war with Israel.
The conference, however, didn't go according to plan. Two hotels, including the Intercontinental Doha, canceled the scheduled event after it became clear that the company "could face penalties for providing material support for terrorism." But Qatar didn't blink, so the conference was carried out a little later at the Sheraton Grand Doha hotel.
Meanwhile, in April the regime also showered Iran and Syrian terrorists with far more than rose pedals. They gave a $1 billion hostage payment that provided $700 million to Iran and its proxies and around $300 million to Hayat Tahrir al-Sham, a conglomeration of Sunni jihadi groups in Syria that includes al-Qaeda's affiliate. In fact, they were early to the al-Qaeda funding party, supporting its Syrian affiliate, the al Nusra Front, before the Islamic State declared itself a caliphate to the east. The Islamist tint seen in Syria's civil war would not have been so vibrant and destructive without Qatar's contradictory support for multiple terrorist elements.
The Domestic Dimension
Trump's message in May in Riyadh reasserted U.S. leadership behind America's traditional allies towards a defined goal, namely, to destroy ISIS and push back on Iran. That, in part, explains why so many in the Washington policy-making establishment have called for sweeping the Qatar conundrum under the rug in an effort to coalesce into a united front that can face Iran.
Those arguments are not without merit. But an additional problem relates to America's crafting of foreign policy and the public debate most see and read about outside the beltway. It is the vast sums of money Qatar spends in the United States to influence foreign policy through universities, think tanks, and of course, lobbyists. It allows the wealthy emirate that's no larger than Connecticut to punch far beyond its diplomatic weight.
Angelo M. Codevilla, a fellow at the Claremont Institute, recently detailed those efforts and its effects and concluded, "Qatari investments in America's foreign policy Establishment have paid good dividends; our investments, not so much." It suggests what could simply be called a bad deal for the United States. After all, bad advice leaves policy-makers with poor options.
In a recent column in The Hill, Jonathan Schanzer, senior vice president at the Foundation for the Defense of Democracies (FDD), also described Washington's permissive approach to foreign policy-making on Qatar. According to Schanzer, his think tank, which takes no foreign donations, has "found it challenging to publish our analysis, or even to merely have a debate, often because the topic is a liability (politically or financially) for certain publications and other shops around town." He concluded, "This wholesale purchase of opinion-makers in Washington has led to an even greater challenge: the acceptance of an unsustainable status quo."
To the extent there is a public debate, it is in a highly charged atmosphere, fueled by foreign money, and designed to maintain a broken system. Unfortunately, Tillerson's approach appears to be calling for continued policies that promote the very impasse he's trying to solve. Moreover, it contradicts the stated goals of the president. It's no wonder, then, that Tillerson seems to be spinning his diplomatic wheels.
Qatar's promiscuous foreign policy isn't just bad for the region, it's harmful to U.S. interests at home and abroad. To realize the multiple dimensions this challenge presents and only seek to paper over them ensures the same cycle will repeat.
Given the goals President Trump laid out in Riyadh, he should seek a change in Doha's duplicitous behavior and bring them back into the fold on terms that align more with his vision. That means the deal worth making is a new one predicated on American interests, not the interests of those addicted to both the money and the status quo.