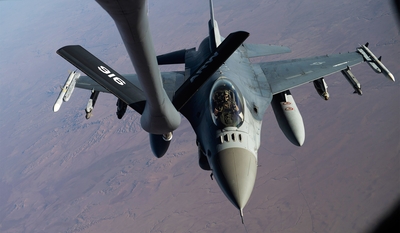 A U.S. Air Force F-16 refuels in the skies over Syria, December 2017. (Photo: Staff Sergeant Paul Labbe / USAF)
As the civil-war aspect of the Syrian conflict winds down, the great power struggle among states is intensifying. It appears the Trump team has discovered that its ability to help solve the former will determine how it fares in the latter.
To that end, the president's team is fine-tuning an approach to Syria to ensure the enduring defeat of ISIS, freeze the conflict elsewhere in the country, and reinvigorate the peace process according to UN Security Council Resolution 2254.
To achieve these objectives, the administration is relying on a combination of public messaging and behind-the-scenes diplomacy, but perhaps most important, they are backing it up with a forward-leaning military posture. If recent developments are an indication of future results, the U.S. may finally have a foundation it can build upon. And that's not just bad news for Russia but for Iran as well.
The early dividends of this strategic shift can be seen in Syria's northwestern province of Idlib, the last major rebel stronghold in Syria and home to some 3.5 million people. The issue of Idlib was bound to cause friction in the Russian–Iranian alliance with Turkey, which already has boots on the ground and is invested in maintaining stability in the area. Despite this temporary partnership, President Erdoğan is against turning the territory over to the Assad regime and his Russian and Iranian backers, or allowing them to indiscriminately bomb and starve the population into submission.
But that didn't mean that finding common ground with Turkey's prickly president would be easy for the Trump administration. After all, the bilateral U.S.–Turkish relationship is already fraught with tension and Erdoğan is staunchly opposed to the U.S. alliance with the Kurds. Add to it the fact that Russian president Vladimir Putin has been diligently working to pry Turkey out of NATO's orbit, and one could see how making any kind of positive progress was far from a slam dunk.
Enter the State Department's newly appointed special representative for Syria engagement, Ambassador James Jeffrey, and the new Near Eastern affairs deputy assistant secretary and special envoy for Syria, Joel Rayburn – both of whom headed to the Middle East for consultations with key allies and Turkey before they could unpack their offices at Foggy Bottom. By leveraging America's relationship with the Kurds and agreeing to sort out the long list of bilateral issues with Erdoğan on another day, Washington closed ranks in support of Turkey's Idlib position and chalked up a win for quiet U.S. diplomacy.
Of course, even successful backroom diplomacy with Turkey wouldn't necessarily be enough to persuade the pro-Assad axis to abandon its planned offensive. To bolster the diplomatic effort, the U.S. turned to a public messaging campaign that relied on multiple corners of the administration, including the president, National Security Adviser John Bolton, U.S. ambassador to the U.N. Nikki Haley, and Ambassador James Jeffrey. They abandoned the narrow definition of America's opposition to Assad's use of chemical weapons in Idlib in favor of a stronger stance that considered any regime-sponsored military campaign to be a significant and reckless escalation.
These efforts were backed up by a third element that undergirds and adds credibility to the effectiveness of quiet diplomacy and uniform public messaging. It is a forward-leaning military posture and a willingness to kinetically engage one's adversaries if needed. Critically, it wasn't confined to the recent announcements that the U.S. intended to remain in Syria but could be witnessed by those who needed to see it the most, namely Assad's Russian and Iranian backers.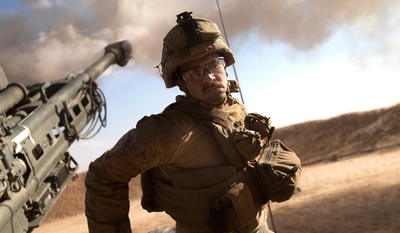 These actions included fortifying U.S. positions in Syria's northeast with both offensive and defensive military assets and conducting week-long live-fire exercises with America's allies. Farther south, it involved the addition of the Marine aircraft carrier USS Essex, which recently arrived in the Arabian Sea with its deck full of F-35B stealth fighter jets – the first U.S. deployment in the region of its advanced stealth warplane. "Our primary mission is crisis response," Colonel Chandler Nelms, commander of the military expeditionary unit aboard the Essex, explained. That means "being current and absolutely ready for anything the geographic combatant commander needs us to do while we are here."
The administration's combined efforts led Assad and his Russian and Iranian partners to put their planned offensive on hold and helped stave off what U.N. secretary-general António Guterres predicted would otherwise have become "a humanitarian nightmare" and a "bloodbath." In other words, America's military readiness for a crisis is helping to avert one, at least for now.
There are also other benefits to the new approach that strengthen America's hand. Consider Putin's plan to weaken the U.S. position in the Middle East. The best way he can accomplish this is by dislodging American forces from Syria, which explains why Russian and Iranian forces are again preparing for "cross-river operations" and "consolidating command-and-control structures in Eastern Syria," as the Institute for the Study of War has detailed. These moves and warnings are designed to threaten and ultimately challenge the U.S. and its local allies.
The Russian leader recognizes that his seat at the political negotiating table is determined by where he and his allies stand on the Syrian battlefield, and at this point, he is figuring that it's best if no one but Assad and Iran joins him at the table.
The Trump team, however, has a different plan. Adding the roughly 10 percent of Syrian territory under Turkey's protection to the 30 percent already under the control of U.S. and allied forces, close to half of Syria's landmass remains outside of the Assad regime's fold. As Ambassador Jeffrey put it, "Assad is sitting on a cadaver state with almost no economy, no access to his fuel and gas resources . . . and no promise or hope of reconstruction because the United States, as part of its policies," is working with the European Union and Middle East allies to keep him isolated.
Putin's Syria problems amount to more than territory percentages and military prowess; he stands to lose in global politics as well. The Russian president is counting on his political alliance with Iran and Turkey to present a united front to the international community because it forms the basis for his Astana process, which he views as the key to locking in his long-term political gains. Of course, it is also a farcical Russian-led effort designed to maintain the same Syrian power structure with Assad at the helm while retaining Putin's position as Syria's ultimate arbiter. But by strengthening the U.N.-led process, which already has significant buy-in among Middle East allies and European states, the Trump administration is further weakening Putin's grasp on Syria's future.
Mr. Trump inherited a complex set of problems in Syria in which Iranian and Russian stock was on the rise, and the perception of American power – and its utility as an ally – was on the decline. The good news is that with a new and capable Syria team, the United States is finally putting its ample leverage to good use while leading its allies who are now willing share this burden. By continuing to effectively combine diplomacy, messaging, and a forward-leaning military posture, the U.S. can provide a pathway towards a Syrian endgame that works in America's favor and that of the Syrian people.