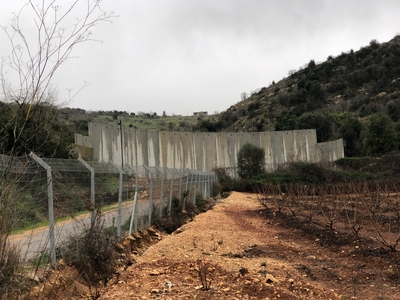 The Israel-Lebanon border on February 17, 2018 just north of Margaliot, Israel gives a sense of the terrain Hezbollah was burrowing tunnels through. (Photo: Matthew RJ Brodsky)
Israel's
Operation Northern Shield
, which recently exposed Hezbollah's cross-border
attack tunnels
, has prompted the perennial question: Are Israel and Hezbollah about to go to war in Lebanon?
Long before these latest revelations, conventional wisdom held that another war between Hezbollah and Israel was simply a matter of time. While the date remained uncertain, the results were thought to be predetermined. The next round would bring an unparalleled level of destruction to both countries, dwarfing that of the previous 34-day war in 2006.
The tunnels Hezbollah burrowed are meant to facilitate the movement and infiltration into northern Israel of hundreds of its fighters as part of its well-established military doctrine that calls for "the conquest of the Galilee."
The plan was developed after the 2006 war by Hezbollah's international terror chief, Imad Mughniyeh, and expanded upon by Mustafa Badr Al-Din, both of whom were killed by Israel in 2008 and 2016, respectively.
These subterranean shafts were likely supposed to be used if Israel takes military action in Lebanon or once Iran passes a nuclear threshold that would embolden it to embark on a sustained military confrontation with Israel, which is something the regime in Tehran would like to avoid in the near-term.
But the tunnels are only a small part of the overall threat Iran and Hezbollah pose to Israel from Lebanon. On December 3, a day before Israel made its operation public, Israeli Prime Minister Bibi Netanyahu met with US Secretary of State Pompeo in Brussels to pass on a message that should be delivered to the Lebanese authorities: They must stop Hezbollah's efforts to acquire or manufacture precision-guided missiles or Israel will act.
Perhaps equally troubling, from Israel's perspective, is the uptick in direct flights from Tehran to Beirut using converted civilian airliners that have carried advanced weaponry such as Global Positioning System (GPS) components that could upgrade Hezbollah's arsenal of unguided heavy rockets into precision-guided munitions (PGMs).
Despite hundreds of Israeli strikes in Syria, Iran has already secured many of its war-related objectives, however, it has been less successful transferring PGMs and other "game-changing" weapons to Hezbollah in Lebanon.
What's worse, from Tehran's perspective, is that the international community merely shrugs when Israel carries out such strikes and Russia hasn't acted to put an end to them either. Israel's success in interdicting these weapon transfers in Syria explains in part why Iran is shifting its advanced weapons production program to Lebanon, which constitutes a serious breach of Israel's clearly articulated red lines.
For its part, Israel is mindful of the Iranian shift in tactics. The IDF has long publicized Hezbollah's violations of UNSCR 1701, and the legacy of abject failure of the United Nations Interim Force in Lebanon (UNIFIL) and the Lebanese government.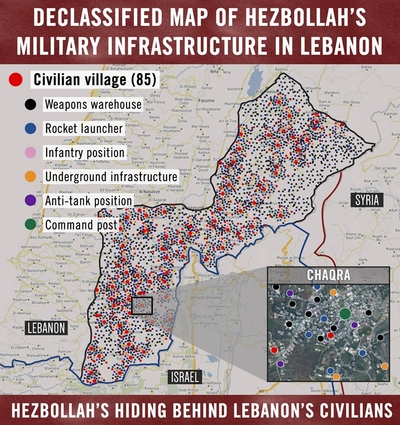 Those efforts even included the release of a map detailing over 200 towns and villages near the Blue Line that Hezbollah turned into forward operating bases. Israel's recent focus on production facilities, however, is unmistakable and new.
For example, in March 2017, the Kuwaiti daily, al-Jarida, reported that Iran established missile manufacturing facilities in Lebanon more than 50 meters underground. A few months later, Israel's director of militarily intelligence, Maj. Gen. Herzl Halevi, publicly confirmed that the IRGC had established several weapons factories in Lebanon.
And in a rare move in January 2018, IDF spokesman Ronen Manelis published an Arabic article in Lebanese and Arab media outlets warning that Iran was using Lebanon as a "pawn" and that it had "opened a new branch" in Lebanon, turning the country "into one large missile factory."
This appears to mirror Israel's public diplomacy strategy already recognized in Syria, where Iran would establish military bases and infrastructure, the Israeli company ImageSat International would release satellite images in Western media, and shortly thereafter an Israeli strike would hit the location.
The Iranian base at al-Kiswah just south of Damascus, or the Iranian military post, surface-to-surface missile storage and manufacturing sites, and Syrian Scientific Studies and Research Center that are all located near Masyaf, are just a few recent examples.
IDF planners and military intelligence officers tend to refer to the current phase as the campaign between wars. "If you are successful in the interim campaign, then you can prevent the next war or expand the period of time between two wars. It will also make the next war less costly to fight when it happens," explained the former director of the research division of IDF Military Intelligence and former director general of Israel's Ministry of Strategic Affairs, Brig. Gen. (res.) Yossi Kuperwasser in an interview with me earlier this year. "We invest a lot in the campaign between wars."
Iran's decision to shift production to Lebanon is based on the assumption that their facilities will remain off-limits to Israeli strikes and buried too deep should they decide to attack. It also constitutes an attempt to unilaterally impose a change in the current rules of the game that have been observed since 2013, when Hezbollah and Iran became deeply immersed in the Syrian conflict on behalf of the Assad regime.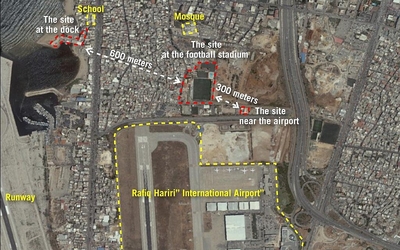 A satellite image released by the Israel Defense Forces showing three sites near Beirut's international airport that the army says are being used by Hezbollah to convert regular missiles into precision-guided munitions, on September 27, 2018. (Photo: Israel Defense Forces)
The hybrid rules of engagement that emerged as a result shifted the theater of permissible engagement from Lebanon to Syria, meaning Israel could strike at weapons shipments destined for the Lebanese terrorist group in Syria, and Hezbollah believed it could retaliate against Israel on the Golan. Lebanon would remain untouched or
Hezbollah promised to counter-escalate
, thus spiraling toward the devastating Lebanon war analysts have been predicting since 2006.
The question Israel must often ask and answer is if it is willing to stick to the current paradigm of the campaign between wars, which continues to kick the proverbial can down the road, in order to maintain some semblance of a favorable status quo?
Additional questions are worth pondering as well. How would Iran and Hezbollah respond if Israel chooses to strike in Lebanon and it causes very little in the way of collateral damage? Would Iran risk the defeat of Hezbollah, the devastation of Lebanon, and the diminishment its own regional position over the loss of a couple manufacturing facilities and tunnels in Lebanon? Moreover, would the Iranian regime see it as worth the risk before developing a nuclear deterrent?
On one hand, Iran has so far shown an unwillingness to confront Israel militarily if it requires sustained conventional warfare. Hundreds of successful Israeli airstrikes on Iranian assets in Syria testify to this reluctance. On the other hand, the regime in Tehran has already demonstrated it is willing to fight to the last Lebanese in Lebanon, and the last Syrian, Iraqi, Afghani, or Pakistani in Syria. And they remain willing to sacrifice the well-being of their own people in their pursuit of foreign adventures.
Short of a direct Israeli attack on Iran's nuclear facilities, it's hard to imagine that the regime would seek to escalate to a full-scale war. For that reason, Israel may conclude that limited, precision strikes in Lebanon could be the answer to shift the rules of the game back in its favor, especially if it is prepared to counter a limited retaliation. While this scenario entails significant risk, it also hinges on the Islamic Republic's understanding that the 2006 rules no longer apply.
That is to say that Israel's answer to a major counter-escalation from Hezbollah in Lebanon could have a new address, which happens to be the center of gravity and point of origin for many of the region's problems. That address, of course, is in Iran.