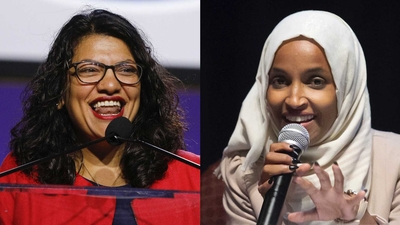 What a difference a day makes in the arc of the Rashida Tlaib, Ilhan Omar, and Israel story. The predominant narrative that took hold among many on the political Right and the majority of Jewish and pro-Israel organizations was that Israel may have been right in principle to bar the two controversial congresswomen from entering Israel, but that didn't mean it was necessarily a wise decision for Israel to do so.
Most understood that the two freshmen were planning to use the trip to smear Israel. After all, they skipped the official congressional Democratic delegation that arrived in Israel a week earlier — which included 41 House Democrats who not only met with Israelis, but also with Palestinian Authority President Mahmoud Abbas. Omar and Tlaib kept switching their itinerary to mislead Israeli authorities, even as they had organized no meetings with any Israeli officials or politicians — or even Arab-Israeli Knesset members and candidates. And Tlaib and Omar already boasted a lengthy history of remarks that bridged the thin line separating anti-Israelism from anti-Semitism.
Despite these numerous red flags, the prevailing sense among many in the U.S. Jewish community was that barring their entry would only give ammunition to those who belittle Israel as a democracy, as Omar so often does. Free speech advocates would also argue that it stifles debate. Better to let them in, they argued, and let them experience the authentic Israel. They just might change their tune. If the experiment doesn't work, then Tlaib and Omar's agenda would be exposed for what it is and they would come out the biggest loser.
Many seemed to grasp — perhaps even grudgingly accept — that the decision to either allow or prevent Tlaib and Omar's entry was a choice between two bad options. The goal became how to best mitigate the public relations damage that would impact Israel. The posture adopted was defensive in nature, even though a laundry list of talking points and avenues of attack were ready to be explored and deployed if the opportunity arose.
But that was Thursday evening. When I awoke early Friday morning, I saw the news flash that Israel would allow Rashida Tlaib to visit her 90-year-old grandmother, who lives in the village Beit Ur al-Fouqa. After all, Israel's decision to bar their entry came with a caveat. Israel would give her appeal strong consideration if she made an official request for entry on humanitarian grounds and pledged not to engage in activities designed to undermine the country. In that scenario, her admittance wouldn't run afoul of an Israeli law passed in 2017 that requires the Interior Ministry to block foreign nationals from entering Israel if they have supported boycotting the Jewish state. She made that request in a letter, along with her promise, and Israel granted its approval within hours.
For a moment on Friday morning, it seemed like the wheels were falling off the Israeli wagon as the political echelon somehow managed to bungle a choice between two bad options by combining the worst aspects of both. Israel would now be blamed for initially barring their entry, relenting, and then allowing Tlaib to enter and agitate against the Jewish state. The talking point on the Left that Netanyahu's decision made Israel look weak had already gathered steam the previous day. "Disjointed" would now be added to the list of accusations leveled at Netanyahu, and he could be punished when Israelis head to the polls on September 17.
Somehow, in an extraordinary example of snatching defeat from the jaws of victory, Tlaib scorned Israel's acceptance of her own offer. And with Rashida Tlaib's rejection, the final fig leaf tasked with covering up the true purpose of her journey blew away.
As I made my way to the studio that Friday to discuss this issue on the air, it felt as if the defensive cloud that descended a day earlier had lifted. Moreover, the difference between the arguments that could be deployed the previous evening, and what could be argued that morning, was both literally and figuratively the difference between night and day.
Those of us who had some previous trepidations about how to best defend Israel found themselves no longer in a defensive crouch, but standing tall and seizing the initiative. It was like the opposing football team turned the ball over, leaving the pro-Israel team with excellent field position. And the entire playbook was open for the offense.
Right out of the gate, a steady light could be focused on Miftah, an organization that publishes ancient blood libels against Jews, along with neo-Nazi propaganda and praise for suicide bombers. That isn't merely anti-Israel sentiment — it is unadulterated and vile anti-Semitism.
Just about every subsequent development in the arc of the story has reflected poorly on the two congresswomen: From their anti-Semitic cartoon tweets to HBO's Bill Maher roasting them to their disastrous Monday press conference.
There are many lessons at the intersection where the Jewish world and Democratic politics meet — to the extent there still exists a distinction. That Trump and Netanyahu agreed on the decision to bar Tlaib and Omar's entry reflects their calculation that the bipartisan pro-Israel congressional consensus that existed in the past is vanishing and they are not willing to pretend otherwise. Many of us on the Jewish and political Right have already accepted this reality, as unfortunate as it is.
This drift away from Israel on the political Left, however, is nothing new. But the rapid elevation of the kind of voices represented by Ilhan Omar and Rashida Tlaib is different and worrisome. While House Democratic leadership may believe the anti-Israel trend is reversible, it is the leadership's decision not to confront the rising anti-Semitism in its own chamber that is solidifying the very reality it refuses to recognize. And in the process, it serves as a reminder for the rest of us of the importance of the Jewish state. It is, among many other positive things, the greatest insurance policy against the kind of anti-Semitism that flourishes when people of good conscience look the other way.