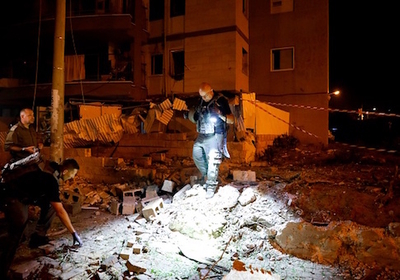 Israeli emergency personnel gather at the site of rocket attack in the southern Israeli town of Ashdod (Photo: Getty Images)
The violent spasm from Hamas-run Gaza isn't just another episode in the ongoing Palestinian-Israeli conflict or merely another incident in a cycle of violence in which the Palestinians are given no agency. It is a significant escalation that tests the prevailing rules of the game with Israel where Iran is demonstrating its ability to intensify the conflict by meddling in Palestinian affairs.
Despite the ceasefire previously hammered out by Egypt, a sniper from Iran's proxy – the Palestinian Islamic Jihad (PIJ) – opened fire across the Gaza fence wounding an Israeli officer and soldier on Friday, May 4. The attack is all the more brazen as it took place as Hamas and PIJ leaders were in Cairo finishing an agreement to ease the tensions in Gaza and Israel's south. The IDF responded to the initial incident by targeting a Hamas outpost, killing three Hamas terrorists.
Beginning around 10 a.m. the next morning, the first of hundreds of rockets were fired by Hamas and PIJ into Israel, with around 700 launched toward Israeli homes and infrastructure by Sunday evening, killing four civilians and injuring dozens. Hamas-affiliated Shehab News Agency posted video of a salvo of rockets fired from Gaza.
This latest escalation is significant for several reasons. First is the deliberate increase in range in the rockets fired from Gaza. Hamas and PIJ began by targeting Israeli communities in the Strip's periphery, such as Sderot and Ashkelon. According to the IDF, after the Home Front Command instructed residents living within 40km of the Gaza Strip to consult with local authorities and remain near protected spaces, the terrorist groups turned to rockets with increased ranges of up to 70km. By Sunday, several longer-range projectiles were fired, growing to encompass Ashdod further north. On Sunday, city officials opened bomb shelters as far up the coast as Netanya, which lies north of Tel Aviv.
The kinds of weapons used by terrorists in Gaza are also noteworthy. Interrupting a short lull in the rocket fire, terrorists fired a guided Kornet anti-tank weapon, targeting a car and killing a civilian in Israel. According to the IDF, militants in Gaza also tried carrying out an attack using a rocket-propelled grenade (RPG) attached to a drone, which landed on a tank but failed to detonate. The IDF, working with Israel's internal security the Shin Bet, also thwarted a Hamas cyberattack against Israeli infrastructure and responded by destroying the building housing the headquarters of the terror group's cyber unit. It was the first such attack while fighting was ongoing.
Of the 700 or so rockets fired from Gaza through Sunday, most landed in open fields, 90 failed to make it out of the strip, and Israel's Iron Dome missile defense system intercepted more than 170 with a success rate of over 80 percent. Despite propaganda attempts by Hamas and its own Health Ministry to blame Israel for the death of a Palestinian woman and her unborn baby, Israeli officials are adamant in refuting that claim.
IDF Spokesman, Brig-Gen Ronen Manelis wrote on Twitter that the death was "the terror organisations' propaganda at its finest." Jonathan Conricus, the foreign press spokesman at the IDF told journalists they were "now confident" that the deaths were not due to an Israeli strike. "Their unfortunate death was not a result of (Israeli) weaponry but a Hamas rocket that was fired and exploded not where it was supposed to," Conricus said, citing Israeli intelligence.
Nevertheless, several rockets managed to make it through, killing four Israelis and wounding several dozen more. The first Israeli fatality was Moshe Agadi, a 58-year-old father of four who was killed when a rocket struck his home in Ashkelon. A 47-year-old Bedouin man, Ziad al-Hamamda, was killed Sunday by shrapnel after a direct strike on a factory, also in the city of Ashkelon. Moshe Feder, a 68-year-old man killed was killed by the Kornet anti-tank missile. A 23-year-old Israeli, Pinchas Menachem Prezuazman was also killed Sunday due to shrapnel injuries he sustained while running to a shelter in Ashdod. In these border communities, there is often less than 15 seconds of warning time between a red alert and a rocket's impact.
Israel's response was also significant as it holds Hamas responsible for the situation in Gaza, especially as the precipitating event during this round occurred at the weekly Hamas-sponsored riots along the Gaza fence that have taken place for over a year.
The IDF targeted approximately 320 terror sites in Gaza, including observation control rooms, underground offensive terror tunnels underground infrastructure, weapon storage facilities, military compounds, launch sites, weapons factories, and observation posts. They also targeted an underground Hamas rocket manufacturing site, weapons manufacturing facilities inside a Hamas battalion HQ, and Hamas military intelligence and security offices. Israel's navy also struck several targets.
More significant is that Israel targeted dozens of private homes belonging to Hamas and PIJ commanders, including the office of Hamas' interior minister and head of Hamas security services, Twafiq Abu Naim. Moreover, Israel returned to its policy of targeted assassinations as confirmed by the IDF Spokesman. Its first targeted assassination carried out since 2014 struck a vehicle and killed 39-year-old Hamed Ahmed Abed Khudari who was in charge of large-scale money transfers from Iran to terror groups in Gaza.
To put these later targets in an airline context, if Israel's usual response was to target terrorist infrastructure and assets in the economy section, these latter targets suggest an upgrade towards business class.
Israel has also enhanced its air defenses in terms of personnel and equipment and augmented the capabilities of its Air Force. Israel's Chief of Staff ordered the deployment of the 7th armored brigade to prepare for a ground operation in Gaza if needed, along with the Golani brigade.
Aside from serving as a reminder that Hamas remains as wedded as ever to its charter, which calls for the destruction of Israel as part of its "struggle against the Jews," this latest escalation also highlights the regime in Tehran's ability to impact to the situation in Israel and Gaza, which is likewise devoted to goal of wiping Israel off of the map. The latter's impact can be seen by the subversive role played by the PIJ as they often operate behind the back of Hamas leadership. As the former head of Israel's Military intelligence's Research Department, Yaakov Amidor put it, Palestinian Islamic Jihad, unlike Hamas, is a completely owned and operated Iranian subsidiary, "established by Iran, financed by Iran, and does what Iran wants it to do." A former national security advisor and current senior fellow at the Jerusalem Institute for Strategy and Security (JISS), Amidor explained, Hamas was dragged into the current escalation by PIJ, who first tried to deny their responsibility for the attack.
Iran would consider it a benefit if Israel were bogged down in a major operation Gaza, which would give Iran a freer hand to continue its entrenchment enterprise in Syria. Amidor believes agreements with Hamas are unlikely to hold if PIJ acts independently and "if Hamas does not take control and do what it should as an organization that is control of the Gaza Strip."
It was the PIJ who ignited this latest round even if Hamas was quick to join in. Taking credit for the strikes that reached Ashkelon, PIJ claimed it fired a new type of missile at the city and said, "what is coming next is greater."
As of Sunday night and early Monday morning, Egyptian intelligence officials along with UN Middle East Envoy Noklay Mladenov were reportedly mediating talks aimed at securing a ceasefire. Qatar, who actively supports Hamas and the Muslim Brotherhood, has hosted Hamas external leadership, and pays Hamas civil servant salaries in Gaza, also offered to help negotiate a ceasefire.